HeartFelt Silks is an exciting destination for fiber artists and fiber art collectors. HeartFelt Silks is home to the unique handcrafted Patented Palm Washboard® tools for felting and your source for a range of fine felting and other textile art materials, including hand-dyed fibers and fabrics. HeartFelt Silks is the creative collaboration of Robbin Firth, an accomplished fiber artist and educator, and Harry Firth, a master wood artisan. Robbin's line of original hand-dyed and hand-felted garments and accessories, as well as a line of wall and sculptural art, and home decor objects, are available at HeartFelt Silks. All HeartFelt Silks products are made in Minnesota. In 2019, we were excited to welcome visitors to our new retail shop, gallery, studio, and teaching space at 243 3rd Street North in Bayport, Minnesota.
Harry and Robbin collaborate on a variety of other creative art projects. They are also avid gardeners. They are passionate about animal rescue efforts, and they share their home with several beloved dogs and cats.
Meet Robbin Firth
Robbin Firth is an acclaimed fiber artist and educator. She is known in the Midwest, nationally, and internationally for her original collection of fine felted and dyed wearable and decorative fiber art. Robbin maintains a busy teaching schedule of private and group classes in wet felting, Nuno felting, and eco-dyeing. For many years, Robbin taught at The Textile Center, Season's on St. Croix Gallery (which used to house Robbin's studio), as well as other venues in the US and abroad. Starting 2019, the new Heartfelt Silks venue in Bayport, MN, is Robbin's main retail, working, and teaching space. Robbin's fiber art will continue to be represented by Seasons on St. Croix Gallery in Hudson, WI, and several other fine boutiques.
Robbin Firth has been active in fiber arts for over 20 years. She also enjoys working with raw fibers, carding and blending, spinning, and knitting, but wet felting and dyeing (including botanical/eco-printing) are her main passions.
Her felt art has been featured in numerous publications in the US and abroad, including the 2016 "Worldwide Colors of Felt" book. Her wearable and wall art was the subject of a solo exhibition at The Textile Center in Minnesota in 2016 and Seasons on St. Croix Gallery, 2014-18.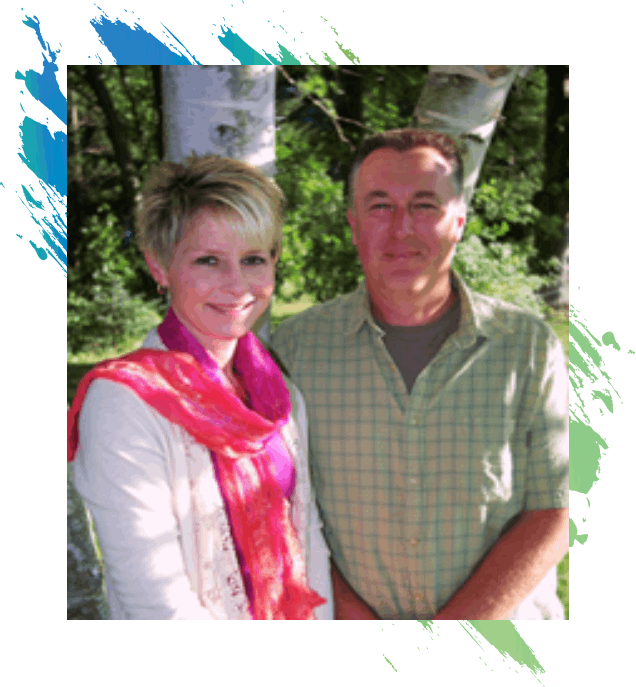 Meet Harry Firth
Harry Firth has worked with woodcraft for over 35 years. In addition to making furniture and other various wood objects (hat blocks, yarn bowls, shawl pins), He has been lathe-turning for over 15 years. Harry takes great pride in making each Palm Washboard® felting tool by hand.
About the Palm Washboard
The Palm Washboard® line of felting tools, Robbin's and Harry's invention, greatly simplify the wet felting and Nuno felting processes. Ergonomically designed, they eliminate the need for strenuous hand-rolling. Designed and handcrafted one at a time, the Palm Washboard® felting tools are used daily by many feltmaking professional artists and felting enthusiasts around the world. Each Palm Washboard® felting tool is entirely handmade by Harry Firth in a sustainable way, using wood from native Minnesota fallen trees, including maple, black walnut, black cherry, red and white oak.