Artistry in
Felting, Dyeing and Botanical Printing
Heartfelt Silks is the teaching studio and gallery of Harry & Robbin Firth. Take a class in our studio classroom in Bayport, MN. Browse the gallery full of fine felt wearables, accessories and home decor. And be sure to check out our patented Palm Washboard Felting Tools, which are handmade here in Minnesota.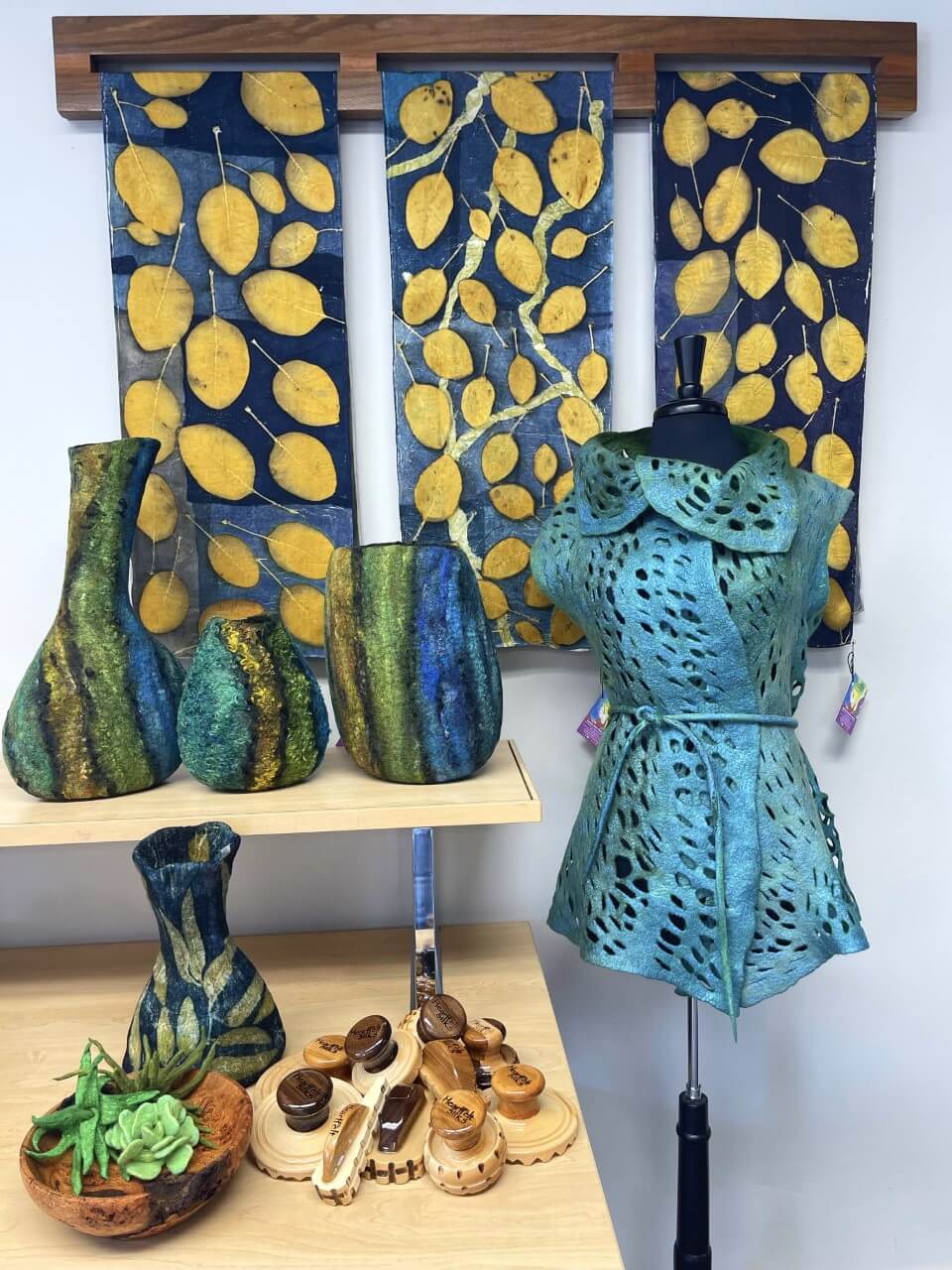 Accomplished
Fiber Artist & Artisan
Duo in Minnesota
Want to learn more? Take a class with Robbin Firth.
Check out our Classes & Events page with everything from beginner to master classes with Robbin!
What are people saying about Heartfelt Silks?
"I'm delighted to have received my palmwashboards, very well packaged, and containing clear instructions, and even a tiny surprise gift of fibre. I find them surprisingly effective and appreciate the quality of the tools, and the wood used to manufacture them and also the fact that they are handmade."
- Clodagh
"This is an incredible piece of art and a must have tool for any wet felter! Love it!"
- Delana
"You have to hold this beautiful wool in your hands! It's so alive and lustrous! The delivery was incredibly quick and they answered all my questions. I recommend this shop for all things warm and wonderful!"
-Sandra
"I purchased 5 colors of prefelts, and they are exactly what I wanted. Beautiful quality and the shop shipped quickly. Very happy with my purchases!"
-Laurie
"These locks are perfect! Vibrant and full of color. Rapunzel would be spinning gold in many colors with these beauties!"
-Phyllis
"Robbin taught a private class for my friends. She brought everything we needed and came plenty early to set up. She is an enthusiastic and encouraging teacher! Even though we aren't all amazing artists like her, everyone was able to make beautiful felt flowers -- and we'd never worked in felt before. I'd take her class again in a heartbeat!!"
-Andrew